Many of us don't understand why we should go for a phone with a larger screen. However, at the end of this article we will understand why screen size of our phones is important. We will also see the role they play in making our phones serve us better.
A phone has moved from what it used to be in the past. Now, a phone has become integral to our live activity. In the beginning, cell phones were needed for only making calls or sending texts. And they do much more than that.
In the world we live in today, mobile phone has almost displaced our desktops. Another form of phones called tablet perform almost all the functions a desktop will carry out for us. The screen size of mobile phones has come a long way.
In the summer of 2007, Apple released to the public the first iPhone. After that, lots of other manufacturers tried to come up with something similar. This struggle to keep up with the Apple design brought the 3.5 inch display.
We all saw how Apple dominated the market till 2010, when the first set of Android phones started to hit the market. This brought some tough competition to the mobile phone markets. A year later, most of the phone screens available were between 2.5 to 4 inches. However, since 2013 we have seen the appearance of more screen sizes which are bigger than what we used to have.
The major benefit of larger displays is that phones are beginning to act like primary computer for large part of the global population. Although people in developing countries may find it difficult to own a car or houses, they are purchasing cell phones regularly. For the majority of the world population, our phones are now the tool we use for almost all our activities including shopping.
READ ALSO: How to make good use of your smartphone
Importance of a Larger Screen Size
What is the importance of a larger screen size? Why should we consider the size of the screen when we want to purchase a phone? We have come up with a few reasons.
Efficiency
The screen size of a mobile phone plays a vital role in its efficiency. Efficiency here refers to the way you can use the phone comfortably. One thing about mobile phones with smaller screen is that it is hard to carry out activities like reading news, typing a blog post or writing an email. Screens less than 4 inches are difficult to use for anything other than chatting on social media.
Samsung was the pioneer of the large screen mobile phones popularly called phablet. The pioneer mobile was the Samsung Galaxy Note series which began in 2011. It was the first phone with a screen size larger than 5 inches.
Although the phone was a commercial success, there were complaints from users who wanted a large screen, but not a large device. The major reason was that a large device will be bulky and difficult to move around with it. Therefore with subsequent release of the phablet series Samsung adjusted to meet consumer demands, other manufacturers soon followed the Samsung model.
These phablets have set new heights for the word multitasking. They promote efficiency by providing you the benefit of maximum screen real estate. These make multitasking effortless. You can navigate with maps while making a call. You can reply a text while watching a video.
This use has lead to improved efficiency in the workplace which makes it easier for professionals to carry out tasks with as little stress as possible. More applications are developed targeting these large screen mobile to help you become even more efficient.
Therefore, larger screen is not just useful to us at home they are indispensable at the office as well. It helps us to get things done without being bulky like laptops, or our old desktops. They have more applications as well which facilitates innovation.
Immersive viewing experience
Have you ever tried viewing a movie or TV show on a 4 inch screen? Then afterwards try watching the same movie or TV show on a large screen of 5.5 inch or more. You will notice the massive difference.
The emergence of the high resolution Full HD compatible display has made our viewing experience cinematic most especially for screen display of at least 1080p. However, to have the full HD experience you should try AMOLED display. In addition to the immersive viewing experience, the AMOLED display is energy efficient. This means that you won't consume much power to watch movies.
Read without eye strain
Most of us do lots of reading with our phones. From reading blog posts to latest news from major news channels like CNN and BBC to viewing social media feeds, articles, and e-books are not left out.
For those who have used the smaller screens, you will know the difficulty and strain on the eyes when you want to do any of the above mentioned activity on your phone. Fast forward to the large screens, the issues of eye strain are all gone.
It is important to know that when it comes to eye strain, that the level of brightness of your screen is as important as the size of the screen. Hence, you have to adjust it to optimal levels before you can enjoy your reading.
Good examples of mobile phones that are perfect for reading are the Samsung Galaxy S7, S6 edge, Techno phantom 10. These phones come with adaptive display technology.
READ ALSO: Why Android Phones are Special
The adaptive display analyses the surrounding and content so it can provide you with a customized display to give you a comfortable viewing experience that will not put any strain on the eyes.
This is very important for dark environment or under direct sunlight. These two environments are the most difficult to read under.
Enjoy your gaming experience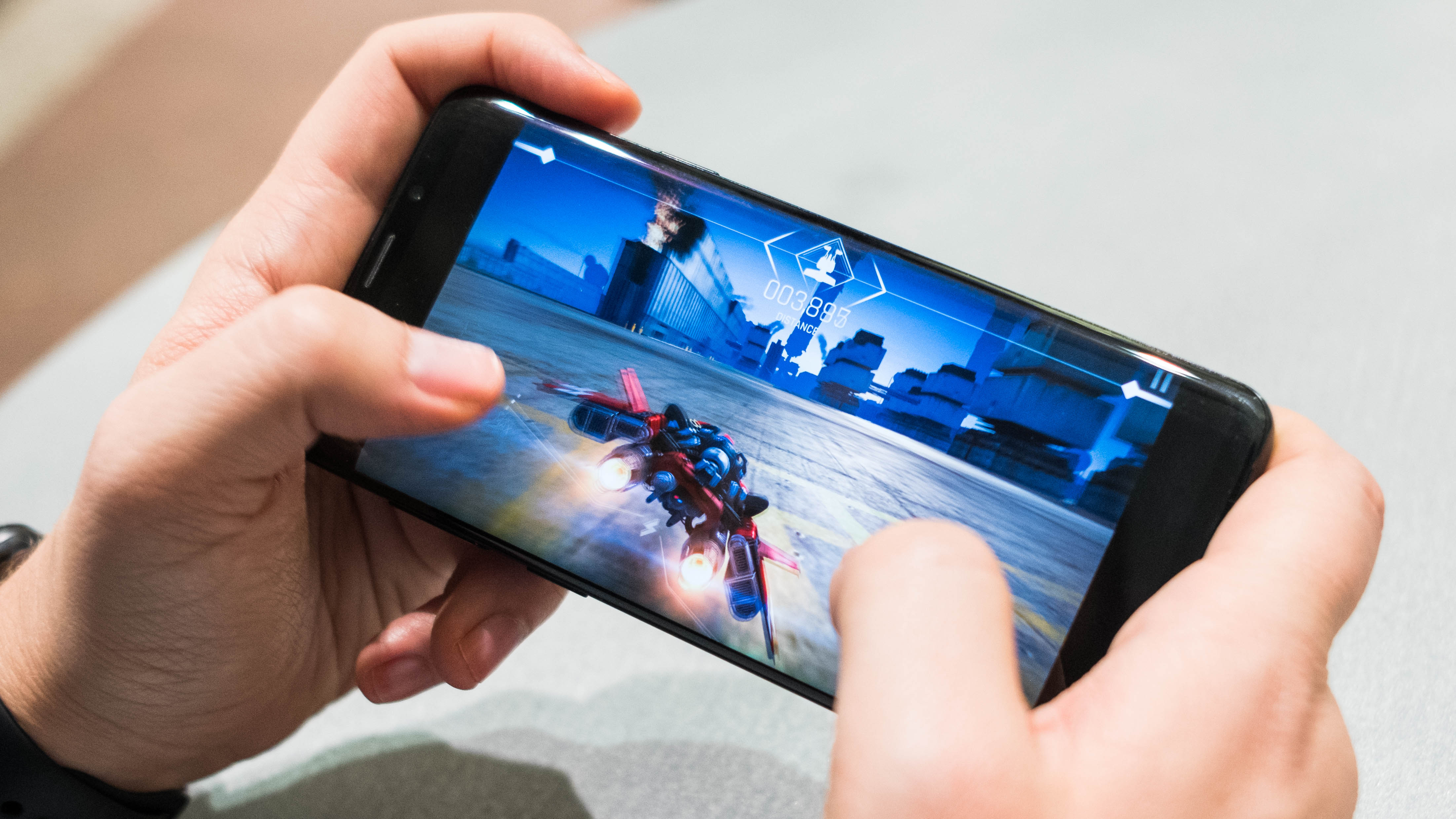 In the good old days of mobile phones, we had games like snake and snake II. These games were popular back then, which consist of a long line moving from one part of our screen to the other.
Nowadays, mobile games have become more graphic. It is difficult to tell the difference between a game on mobile and the one on a laptop most especially the flagship phones. The games are so real that it is easy to recognize the characters in the game in real life. For example, those who play WWE on mobile can easily recognize stars like the Undertaker when they see them for the first time.
The same thing applies to soccer games. Games like FIFA and PES are so addictive because of the high level of their graphics. There are other games with the same level of graphic- intensity such as Game of thrones, star wars.
One thing these games have in common is that they come with customizable characters, complicated console controls and movement, realistic effects and detailed environment. However, with a small screen that is less than 5.5 inch. You won't appreciate these games. The reason is that smaller screen doesn't have the same kind of features found in larger screens.
Larger screen come with in-depth reaction speed to aid movement of characters. It also provides wide view angles, which is very important when playing a game of the level of the ones mentioned here. Larger screen makes it possible for you to hold your phone in a most comfortable possible way and whoever is watching the game with you can see it clearly without losing image quality.
Ease of performing online task
It is common to see people use their phones for several tasks. These tasks include online shopping, online banking, blogging, and online marketing. Viewing text and images during online shopping is necessary.
The same thing applies to entering personal information for payment. Imagine for a second not being able to check the image of the product you want to purchase in detail or to zoom in to check it out.
This has led many to order and pay for the wrong items online. For bloggers who use their phones to write blog posts. It is difficult to write long posts with detailed images with a screen less than 5.5 inch display.
Hence, this brings to fore the need for a large display. You can zoom in on the product you want to purchase to get a detailed view of the product. Scroll through hundreds of pages on online stores like Amazon.
Furthermore, bloggers and content creators can add images and write detailed posts with larger screen. Online payment can also be done faster with larger screen because you can fill your data faster with clearer image.
Better image composition
Taking photos have become one of the biggest reasons people buy mobile phones. That is why people are always on the lookout for mobile phones with great camera.
While it is not possible to improve the quality of a phone camera with bigger screen, larger screen improve the composition of your photos. It will make the angle wider and make it possible for you to capture the entire surrounding with one shot.
Video charts and face time gets better
One thing about bigger screen is that it makes the screen brighter. The whole essence of video charts to bridge the gap between the people involved. With a bigger screen, you will feel like you are there with the person you are chatting with or face timing. Hence, the bigger screen makes video calls better than smaller screen.
Bigger battery
This is a byproduct of large screen. A bigger screen comes with a bigger battery. The importance of bigger battery can't be over emphasized. Without a good battery life, there is nothing you can do with your phone.
The reason larger screen come with bigger battery is because of the added features that comes with this phones. Compact phones come with smaller battery because they were made for calls and texts only. Now phones perform more complex activities, hence the need for bigger battery and bigger screen.
READ ALSO: Negative effects of using modern smartphones
For example, the features of Samsung Galaxy S7 will not be suitable for a battery like those used on compact phones.
Split screen
Split screen is becoming more popular among Android phone users. The advantage is that it enables you to view two applications simultaneously.
Although not found in iPhones, it remains one major benefit of large screen. The ability to view two applications at the same time makes it easier to work and get things done quicker. For example, you can read an e-book and reply texts and the same time.
Visually appealing
The larger screens come with advanced features or technologies. They also come with high pixel density. This offers to the user a visual treat.
The larger screens offer more space for widgets and application icons which make it possible for users to enjoy high definition wallpapers and live wallpapers. All these make your phone a beauty to behold.
Make social networking better
We have already established the fact that bigger screen phones come with better features. In the case of social networking, larger screen makes it convenient to view posts, videos, pictures. They offer similar experience to what you get from your PC. Your updates will get better with larger screen. All these make your social networking experience better than they used to be with smaller screens.
Top five phones with the largest screen in the market currently
We have spoken extensively about the importance of large screen display. The advantages over smaller screens are so many that we can't cover them all. We know that you are reading this article to find out why you may need a bigger screen. We believe we have provided enough answers here.
Therefore it is safe to assume that you may want to know the latest phones with the largest screens display in the market currently. Below is our list of the latest phablets.
Samsung Galaxy Note 10 Plus
It is known as the best phablet with a pen. It comes with an amazing big screen, charges quickly and has versatile camera for multiple use.
Although the camera is among the best in the market now, it is a worthy successor to the Note 9. With a huge battery, and a lovely display you can call it a brute.
This phone alongside the iPhone 11 pro is at the top of Apple roster of amazing phones. Supreme display, and comes with one of the best camera you will ever find in a phone. The pro version offers a performance that puts most phones to shame. It can rival any laptop or computer out there.
READ ALSO: Does Screen Size Matter for Smartphones? Utilitarian and Hedonic Effects of Screen Size on Smartphone Adoption
Conclusion
Most people don't know the importance of a large screen phone. We have covered that here. Our aim is to let you see as much benefits as possible to help you make a decision the next time you want to get a new phone.
We have also given you a list of phones with large screen that will suit your needs.