Yes, there are some top smartphone accessories you may not know. Smartphones have become an essential part of our daily activities. We use smartphones for various things. These include chatting with friends, searching for information, entertainment among other things.
However, without accessories smartphones can't be used for a long time. Accessories prolong the lives of our smartphones. Almost everyone has heard about smartphone accessories. However, not everyone has enough knowledge about accessories. In this article, we are going to enlighten you about accessories you may have not heard about.
READ ALSO: Latest Tecno Mobile Smartphones in 2020
Why are accessories important
top smartphone accesories you may not know are as essential to our smartphones as they are essential to our daily activities. A recent sturdy in the US suggest that the sale of phone accessories is similar to the sale of smartphones. Here are the important reasons why smartphone accessories are a must-have.
Smartphone accessories improve the safety of smartphones as well as the users. For example, chargers ensure that the smartphone battery don't explode while charging. Such explosion will ender the smartphone, and the live of the user as well.
Another example, is the headsets worn to listen to music or watch movies.Without the headset regulating the quantity of sound heard by the user, there is a high possibility that the user's ear may be exposed to high sound which can lead to deafness.
Maximize the smartphone capacity
Accessories help us use , and enjoy our smartphone to the fullest. Often, smartphone perform at a superior level than they were doing before the addition of these accessories.
The introduction of these accessories improve the security of the phone. Security is crucial to every smartphone user. The reason been that cyber security has become a major global issue in the 21st century. A lot of fraudulent activity now takes place online and through fake websites. Addition of accessories improve security of smartphones which in turn protect the users themselves.
Accessories like mobile cases protect your smartphone from scratches, dust , moisture, and the rest. It can also protect your smartphone from damage that comes as a result of you dropping it accidentally. There are different sizes of cases and color.
Best tips to buying the right accessories for your smartphone
Smartphones are owned by almost everyone right now. We get to do lots of things with our smartphones. To purchase the right accessories, you need to follow certain tips to guild you. Here we have provided the following tips for you.
One thing about accessories is that they are very important. However, choosing the right one from the array of accessories in the market is mind boggling.
READ ALSO: Quirky smartphone accessories you never knew you needed
Hence, these tips.
1. Only buy trusted brands
It is in your own interest for you to use only products from trusted companies. Although some accessories may come with a little higher price than others. Often people tend to go for products with cheaper prices and more features.
However this is not right. It is better for you to purchase products from brands that are well known. The reason is that these well known products tend to perform better in the long run.
2. Purchase products that has the features you need
You may require a particular feature from your smartphone accessory. It is possible for you to find one product that functions more than the one you need. For example, it is possible for you to be looking for a Bluetooth speaker.
Some have the ability to charge your smartphone rather than boosting the quality of your music. At this point, the question is what feature do you need? Since you need the amplification of your music, you should go for the speaker that boost quality of music.
3. Check prices to get the best price
Prices differ across different stores especially the online ones. This is can leave you in a bit of confusion. It is best to compare different prices with the right competition. Therefore compare prices to determine which accessory is cheaper , but durable. This will help you get the right value for your money.
4. Go for products that are user- friendly
Having knowledge of how user-friendly an accessory is will make a huge difference in your decision to purchase them. For an example, a USB pen drive with a keychain would be an added advantage to a buyer than one without it. Features like this will form your decision in picking one that gives more value.
READ ALSO: Smartphone life hacks you should know
Top smartphone accessories you may not know
Having seen the importance of smartphone accessories, we are now going to the look at accessories that will make your smartphone great.
Foldable Bluetooth keyboard
Irrespective of whether you are a student, a secretary, blogger, or one of those people who love to type on their computers, carrying a laptop as well as a tablet can be inconvenient sometimes. Fortunately, smartphones now have the ability to address this challenge of typing almost as good as using a computer. Smartphones like Samsung Galaxy S20, Motorola Droid are as powerful as laptops.
To make typing seamless, you should pair these phones with Bluetooth keyboard from Samsers. This is one of the portable accessory that offers not just great typing experience, but is compatible with IOS and Android devices. All it takes is a single charge , and it can last up to 40 hours of typing. After you are done, fold the keyboard and place it in your pocket. That is how portable it is , and light as well.
In the current year, tech greats like Samsung, Apple are moving towards having a near bezellness smartphone displays.This has resulted in making multimedia consumption on phones more enjoyable like never before. Moftcreated an IFA award-winning phone stand . Prices are affordable at $20. This invisible stand provides high functionality with foldable stand. A slot that hold three cards, and a phone grip design. All you need to do is to unfold the outer plate, and you have an angular stand that allow you to watch your favorite shows and movies in a portrait or landscape mode. The stand is almost unnoticeable when not used because it is only 0.5 inches, and weighing just pound.
HoMedics UV – clean phone sanitizer
In this period when it has become crucial to wash our hands, it is also vital that we keep our phones clean as well. After all, we touch our phones, swipe it , place it in our ears, and make our phones our constant companion.To keep your phones clean without doing damage to it with abrasive liquids, the HoMedics sanitizer is the best thing way to go about it.
This sanitizer makes use of UV – clean technology. This is the same sanitizing tool made use of in the hospitals. This accessory needs only a minute of your time to clean your phone. The HoMedics sanitizer claims that it provides a clean rate of 99% bacteria and viruses when used on your phone. The advantage of this accessory doesn't stop at being portable, it can also be used up to 70 times without needing to charge it. Another advantage is that the sanitizer is wide enough to hold smartphones of all sizes. This include iPhone 11 pro, Samsung Galaxy Note 10 Plus , among other things.
Zhiyun 3-Axis Gimbai stabilizer
Do you ever wonder how filmmakers shoot smooth videos even in the most difficult scenes? Although this is not the exact accessory used by professional, zhiyunGimbaistabilizer uses the same technology, and applies it to your smartphone. All you need to do is to plug your device into the Gimbai mount, start video recording normal , and watch it work it's magic . This one is different from the traditionalGimbaithat is heavy and put pressure on your arms, the ZhiyunGimbai is shy of a pound in weight and small enough to carry in a shoulder bag.
However, stabilizing your video is not the only thing that this accessory can do. It will help you take zoom shots, and allow you manually control the angle of your camera with handy joystick button. This accessory is very affordable with price at $65 making it one of the cheapest in the market.
Whether you are an iPhone or Android lover, a feature that is common to both is wireless charging. Among all the wireless chargers in the market currently, the Pitaka Air Quad is at the top of the pile. However, a more critical look at the charger will reveal that it is more than a charger.
As a result of the Chain – Coli system it posses. This ensures even distribution and reliable power flow through out the platform. This enables you to charge smartphone, smartwatch, wireless earbuds, and tablet simultaneously.This charger is capable of giving you hours of usage of your device with only half an hour of charging. Thanks to the certified coil which pumps out 18W of power.
This wireless charger is the solution to those tangled cables you are tired of seeing bedside your bed. With price of $139, the Pitaka Air Quad is worth every penny. You won't regret your choice when you purchase this accessory.
These days out smartphone has become crucial to our entertainment needs. For example, titles like call of duty has taken mobile gaming to a whole new level. However, touchscreen controls and the constant overheating of mobile phones deprive users of the same gaming experience you get with consoles.Enter the coobile gaming grip. This gaming grip gives you the same feel of an actual controller while keeping your smartphone in place with it's cushioned mount.
The advantages of this grip are so many. The first one is it makes sprinting and aiming easy due to the presence of adjustable triggers on the upper corners. This tap a particular area of the screen when it is pressed. The presence of a built -in- fan ensures that your hands are cool. It also keeps your device cooler during high gaming sessions. Even when your battery is running low, you can plug your phone into the power bank found at the back of the grip.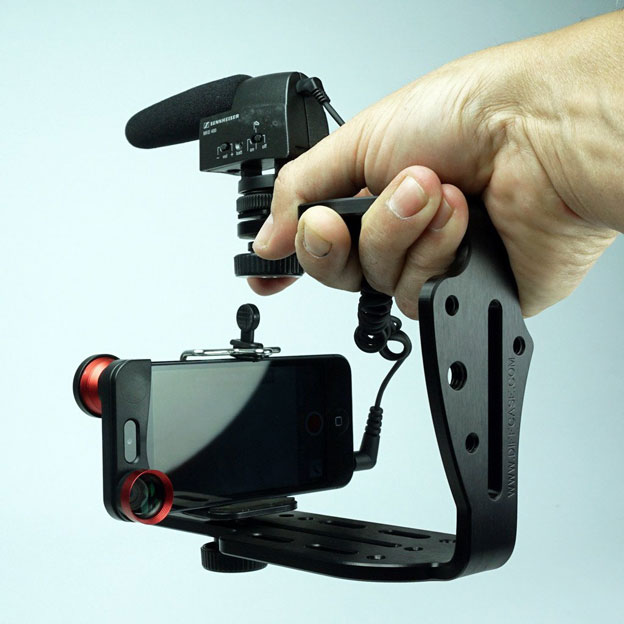 This accessory is for serious content creators. These accessory makes it possible for users to mount smartphones, lights, microphone, battery packs in addition to whatever accessory that want to include.
Among the several types in the market currently, the Ulanzi U Rig Pro is the leading brand. It is equipped with a two tripod threads. Additionally, it has three cold shoe mounts to accommodate other accessories. You can attach it to a tripod in both portrait, and landscape forms.
Microfiber cleaning cloth
This cloth is cheap and very useful smartphone photography accessory. We know smartphones get dirty, and oily as a result of consistent usage. This dirtiness include the camera.
The result of this sorts is blurry and smudgy images. Therefore to make sure that the lens of your smartphone camera are clean, use the microfiber cleaning cloth. Using your shirt to wipe the lens are not just good enough.
Users of Android devices such as Google pixel will be very happy with this accessory. The Google Home Mini smart home assistant will help you control smart home devices as well as enjoy entertainment. At a price of $39 on Walmart, it offers great value for money.
Nebula Capsule Smart Mini Projector
Turn your smartphone to remote your mini projector. This projector is run by Android version 7.1 and comes with streaming apps like YouTube, and Netflix. All you need to do is download the Nebula app to your smartphone. At a price of $299.99, this accessory is worth every penny. Available at Anker, you will be glad you purchased this product.
Must of us love to run in the morning with our ear buds in our ear listing to our motivational music as we job. For those who fall into this category, you know you need your phone at that moment. However, it is not convenient to carry your phone in your pocket when running. Enter the tribe water resistant cellphone armband case. It is compatible with most phones , comes with an elastic band for non – obstructive comfort , and a tiny pocket to hold your keys as you run. The price is a little over $10. This makes it very affordable for such important accessory.
READ ALSO: How to increase the speed of your phone
Conclusion
Smartphone accessories are crucial to the way we use our smartphones. They improve the quality of the work our smartphones do for us. They also help secure them. However, there are lots of accessories out there that most of us are not aware of. In this article, we have provided a list of these accessories to enlighten you.