Mobile phones and smartphones in particular is one of the best things to happen to mankind. LG Phonix 4 has always stood out among smartphones. They have made things a lot easier besides communication that they were made to effect positively by easing the process. LG Phonix phone is one of the mid- range mobile phones a produced by the tech-giant LG.
LG Phonix 4 was released to the public in 2018. It comes with a 1.4 Ghz Quad–core processor. This processor ensures that good performance is kept up. Having a single slot for standard Sim cards, and a second space for a nano SIM card.
This smartphone permits a download speed of 150 megabytes per second for internet surfing. However, authenticity of this claim will depend heavily on two things. Firstly is your mobile carrier. Secondly, it will depend on your arear of residence. There is a third but most people who do like to talk about. That is the server of the site you are visiting.
Some websites have outdated servers and so downloading from there is often characterized by slow speed. Hence what we are saying is that although the LG Phonix 4 is incredibly fast, it was not attain maximum speed during use because of one, two, or three of the above mentioned reasons.
This phone is powered by the Snapdragon 425 chipset. With a sufficient RAM space of 2GB and a large storage space of 16GB which is big enough for you to store most of your files. The CPU runs on Android OS version 7 (Nougat) with a Li – ion battery containing 2500mAh.
READ ALSO: Top smartphone accessories you may not know
LG Phonix 4 Specs
LG Phonix has a screen size of 5 inches. With thickness of 0.32 inches the phone's weights approximately 140g. There is no QWETY keyboard. It is a complete touchscreen smartphone, and open – faced in form.
The height of this phone is approximately 5.70 inches. For the camera specifications although not the best in the market is not so bad. The selfie camera is 5 megapixels, and rear camera is 8 megapixels.
Video display is in HD format which promises to give you vivid picture as well as audio. Comes with hearing aid compatibility which you don't see in most phones right now.The presence of autofocus makes the phone even better for recording short clips. In addition, there is a LED flash.
With a screen resolution of 1280 pixels, you will capture those precious moments with your device camera without worrying about the quality of the shots. It comes with 16 million colors, there is no danger of having dull pictures with poor color quality. The IPS capacity touchscreen is highly responsive hence it makes a great typing experience.
The Li-ion battery of 2500 mAh gives this smartphone a sufficient battery backup. The battery here is a low maintenance type which means that there is no need to discharge it and you can charge it randomly.
However, the battery is removable and this means you can take it out to change when it gets damaged and have it changed. Nonetheless, you don't need to worry because you can use it for a very long time before it will get to that.
The LG Phonix 4 battery offers you a standby time of approximately 18 days. You also get a talk time of 18 hours or more with this battery as well.
This phone comes with both 4G LTE network and 3G network. Hence it is capable of working with any sim card you have. It is a versatile smartphone.
The smartphone is designed with a built-in GPS receiver. GPS allows smartphone users to be found easily in case of an emergency. The GPS is a satellite – controlled navigation system that enables the exact geographical location on the earth surface to be known.
In addition, there is an FM radio receiver. Furthermore, you also get to enjoy quick WIFI connection when you make use of this phone alongside its version 4.2 Bluetooth. This version of Bluetooth enables father connectivity.
Other items for connectivity include a USB port and an audio jack for quick and clear audio connection.
To enable user measure vital things such as length, and other physical quantities, this smartphone has sensors in it. Again, this is not something you can get from manufacturers.
Additionally, the accelerometer is designed to include the capability to measure motion and tilt of the phone or screenmovements during movie watching or games.
Additionally, the proximity sensors find out when a user has the phone near his face when making calls and turns the screen off to avoid accidental pressing of the keyboard. It also reduces battery consumption.
Furthermore, you have digital zooming, continuous shooting, long range dynamic mode, and touch focus. All these combine to give you an inexpensive but highly functional smartphone.
The LG Phonix 4 uses Android version 7 OS (Nougat). However, the firmware can be upgraded to a higher Android version of OS.
The GPU is built on the Adreno 308 version. Although the RAM can't be increased, the primary storage can be expanded to 32GB and offering more space to work with.
This smartphone is an entry-level phone. Hence, the price is expected to be a lot less than that of the flagship phones like Samsung Galaxies, iPhones e.t.c.
Considering the fact that this smartphone is over two years old in Nigeria we expect the price to decline a bit from the initial one. However, this is not the case. We suspect that the reason the price has remained stagnant is because of the quality of service the phone renders to buyer.
Currently, the price is at ₦25,500 (which makes it less than a $100). The phone is available in major smartphone shops across the major cities in the country.
LG Phonix 4 accessories were prepared by AT&T. It is called the Rebel 4 case. It is a slim case. The benefits of this case include
1. Electrical shock – resistance
You can't experience electronic shock from charging when the phone is paced in this case.
2. Anti – scratch
For those who are afraid of scratches at the back of their phone, you should worry no more because this case you won't see any scratches on your device.
3. Screen protector added
The screen protector will give your screen extra protection against drops and other destructive activities. Therefore giving your screen extra years of safety.
You can get LG Phonix 4 cases on Walmart or Amazon prime. You need to part with the sum of $10 – $15 for one case.
With only 5 inches display, you can expect that the LG Phonix 4 won't have large dimensions. It measures 5.69 x 0.31 x 2.86 inches.
Although this smartphone offers a great choice as an entry-level phone, there are still things you won't like about this smartphone. The first one is the absence of wireless charger.
This has become a modern trend among other manufacturers. Secondly, the absence of NFC is another major thing you will miss when you purchase this phone.
Although it has all these limitations, the LG Phonix 4 is a great smartphone. It is capable of doing over 90% of the things flagship phones like Samsung and iPhones do. Thus, if you are on a budget, you should go for this device.
Other Smartphones Similar to LG Phonix 4
We know we all like to be free to make our own choices when it comes to buying stuff. Hence, the reason we have come up with list of other smartphones with similar prices. Some are cheaper, while some are slightly more expensive than the LG Phonix 4. You will find our list below.
This phone is an updated version of the LG Phonix 4. With a width of 2.8 inches and a height of 5.8 inches, the LG Phonix plus is a bit larger than the LG Phonix 4 in dimension.
One thing similar to both phones is the body part which is plastic.You can only get to slot in one sim card unlike the LG Phonix 4 that comes with two sim card slots.
This phone has Android version 7 (Nougat) as its operating system. However, you can upgrade it to Android 8 (Oreo).
The processor is built with quad-core snapdragon 425 which powers a CPU with a frequency of 1400MHz. In addition, you have the same 2GB RAM capacity which is the same the LG Phonix 4.
The storage capacity of the LG Phonix plus is the same as that of its predecessor the LG Phonix 4. They both have 16GB which is expandable to 32 with the help of a microSD.
Looking at the display, they are similar to that of the LG Phonix 4. They both come with IPS technology. Their screens are similar in height too. At approximately11cm each and they also share similar resolution of 1280 pixels.
READ ALSO: Best 5G powered smartphones in 2020
With color depth of 16 million and 2.5 curved glass screen, there is no much difference between both smartphone. They both have the capability to multi touch as well. Furthermore, camera display for both the front and back are the same with that of LG Phonix 4.
Other features of the LG Phonix plus include
Hearing aid compatibility which is also available on the LG Phonix 4.
GPS tracking, compass, and GLONASS.
WI-FI technology, and Bluetooth version 4.0
A USB 2.0 port which allows charging and mass storage
Fingerprint scanner which is absent in the LG Phonix 4
The battery capacity is 3000 mAh which allows this phone give you 18 hours of talk time and 270 hours of standby time. The battery is removable as well. Which means you can change it as soon as it gets damaged.
One thing you should know is that although they are similar in build and function, the LG Phonix plus is way more expensive. It cost about ₦48,000 ( $120).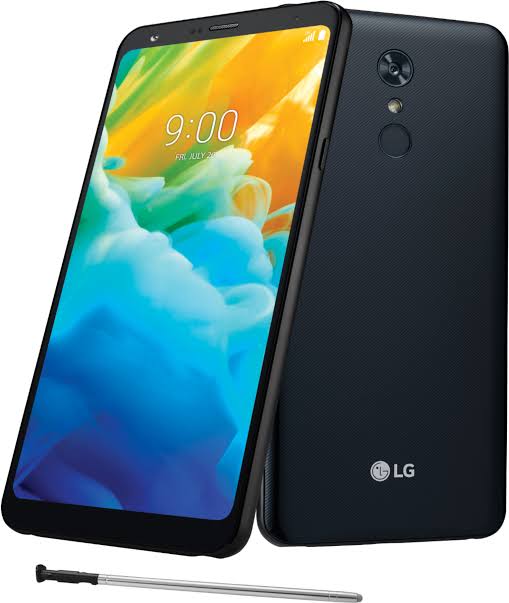 This is another great smartphone from LG. It is an entry-level smartphone as well, which runs on Android version 8.1 operating system. This is a great choice for those who love to take photos with their smartphone.
It has a massive camera resolution of 13 megapixels.The smartphone is powered by Octa-core processor, 1.8 GHz. It is ran by Qualcomm Snapdragon 450 chipset.
The smartphone has 2 GB RAM and primary storage of 32 GB. This phone has a TFT display. It has a height 17cm.
With a battery capacity of 3300 mAh you have enough talk time of more than 19 hours. In addition, it has large screen display of 6 inches or more.
It comes with a single sim slot. Supports 4G LTE network but don't support Indian brands. Also supports 3G network.
Other features of this smartphone include light sensor, proximity sensor, Accelerometer with graphics support of Andreno 506. Available in black color with body parts made of plastic.
Furthermore, the screen resolution is higher than the previous phones listed here. It is 2160 pixels. Touchscreen capability includes multi touch. Although the memory is 32 GB, it can expanded to 2TB. With a front camera of 5MP, you can take your selfies comfortably.
You will also love the presence of a stylus pen which allows you to draw on the screen. The addition of active noise cancellation is another thing to love about this phone.
You can get this phone from major outlets in Nigeria at ₦63,000 (sixty-three thousand naira). This phone cost about $200 on the international stores like Amazon. Although this is a great budget smartphone, there are few things you may not like as a user.
Firstly, the battery here is non-removable which means you can't change it when it gets damaged. Secondly, the absence of facial unlock technology which has become a common trend in modern smartphones.
Conclusion
LG corporation like Samsung is a major player in the mobile phone industry. They are known for producing both high–end smartphones and budget smartphones. The LG Phonix 4 is an amazing budget smartphone.
We have discussed the qualities at length to show you that you can do almost everything you will want to do on the flagship phones with it. The same thing applies to the other phones discussed here. They are budget smartphones as well, but can deliver superior services to users.