There are plenty ways to shoot and stream videos from YouTube. The easiest way is the use of best webcam for Youtube. Today, we are looking at the best webcam for YouTube.
YouTube has become an entertainment and information hub for millions of people around the world sinceinception. Lots of people visit the website every day to stream different videos. Some shoot videos to post in their channel which is also a source of making money.
In fact, YouTube has become like Google. The only twist here is that it deals with videos and not documents. We know that many of us want to shoot a video with our webcams similar to the way we do with our smartphones and post it on YouTube.
Hence the reason we came up with this article. To help you have an idea of what kind of webcam you should get for this purpose. There are a couple of cameras that will be on the market in the coming months.
READ ALSO: Best budget laptops you can buy
The specs on them are expected to be known exceptional. However, out list only comprise those cameras that are in the market for now. We shall update when these new ones emerge.
Logitech Brio 4K
This is the flagship camera of the Logitech company. It is designed for office use. This camera is going to be a massive upgrade from any other built – in camera your laptop processes. There are three field view settings to choose from, so you need to pick one.
Each setting is meant for a specific job. For example, 65° is meant for shooting head shots. To capture more part of the room especially for larger group participation, set the camera to at least 78°.
Features
It offers 4K resolution.
Wide range of field view. Starting with 65, 78, and 90. These angles are used for different purposes.
Privacy is not specifically talked about but you can remove the USB cable to terminate transmission or data transfer.
Comes with the capability to adjust color and brightness to suit your needs.
Has 3 feet multiple USB connection cable. These include USB 2.0 type A and USB 3.0 type A and C.
Comes with a clip for mount on the monitor. However it does not include tripod mount.
One other vital feature is facial recognition. This works with through the use of optical and infrared sensors.
Advantage of using this webcam
You can shoot videos in several resolutions. For example you can shoot in 720p, 1080p and 4K.
Large zooming capability. The glass lens of this webcam has approximately 5X digital zooming capability.
Ordinarily, recording videos in 4k resolution need a USB 3.0. There is no other webcam made by Logitech that comes with a USB 3.0 except this one.
This webcam will cost $136. 29 cents on Amazon prime. With optical sensors of 1MP, it is with every penny.
MEVO PLUS 4K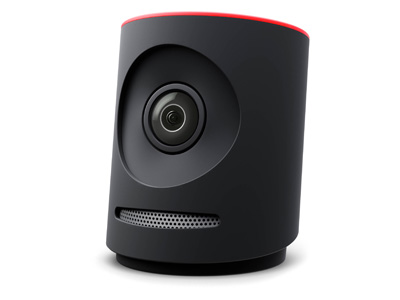 This webcam is commonly called live event camera. It is a premium option. For those who desire more freedom with their webcam, especially wireless connection this one is for you.
It can live – stream through WIFI and LTE and you don't have to get it connected to any computer. Hence, for those who like to stream live events, shows, skits as well as demos, there is no better webcam out there.
Features
High resolution of 4K when recording a video session. For live streaming, resolution is 1080.
Large field of view. Approximately 150°.
The privacy offered by this webcam is not specific. However, it is more secure than the rest because you don't have to mount it on your system. Hence, all you need to do for you to be sure of your privacy is to disconnect it completely.
Comes with 4K glass lens for recording. Thisenables recording of 4k videos on a microSD.
The webcam has stereo mics for audio recordings, however you can add external mics to improve the quality of the second.
Connection here is wireless. You need to make use of the built-in Wi-Fi that comes with antennas, and a Bluetooth version 4.1.
This webcam is easy to mount as a result of the MEVO tripod that it comes with. It also gives it a good height range of 24.6 inches and 58.3 inches.
In addition to all these features listed here, there are other features such as the capability for your smartphone to control it. Hence, you don't need a laptop don't make use of this webcam.
Advantages of this webcam
It comes with an internal battery. In addition, there is an an AC adapter which enables direct, and continues power supply.
You can include the MEVO boost. This will ensure that the battery gives you at least 10 hours of filming.
The addition of MEVO boost brings Ethernet and LTE connection to a modem. Boost is not affected by rain and will charge completely in 5 hours or less.
Another important advantage is that through this webcam, you stream all live events to your social media platforms such as Facebook, Twitter and YouTube channels.
You can get this amazing webcam for $399 on Amazon prime.
Logitech C930e
This is another product from Logitech on our list. This particular webcam has a number of unique features. It also has a 90- degree field of view, and 4x digital zoom.
Features
High resolution of 1080p
Large field of view which is 90°
Enables privacy as a result of the external shutter it has.
Has light correction which is enabled by Rightlight2 technology.
Comes with two multi – directional mics.
The cable length of this one is 5 feet which means you can set it as far as you like.
It can be mounted easily as a result of its clip for the top of your monitor and the inclusion of threaded tripod mount.
In addition to all these features, you have a 90° field view making the C930 the webcam with the widest field of view of all USB webcams on our list.
Advantage of this webcam
Comes with external shutter to enable privacy
It has dual microphones for better audio quality of recordings.
At a price of $45 on Amazon prime, it is one of the cheapest webcams on this list.
Microsoft LifeCam Cinema
Among all the webcams on this list, this is the cheapest of them all. Although it is an older model, you can still use it to shoot high resolution videos like 720p.
READ ALSO: Essential tools for designers
Features
Great resolution for an older model.
Average field of view – 73°.
Has no specific privacy feature. So if you value privacy, this is not an option for you.
Comes with a single mic.
Cable length is 6 feet which is sufficient for data transfer with no inconvenience.
Comes with clip for the top of your monitor which is flexible. However tripod mount is absent.
Advantage of buying this webcam
We have said that this webcam is an older model. However, there are lots of advantages that come with this one.
Comes with true color technology
The mount clip is flexible which means it won't break easily.
Comes with digital pan and digital zoom (4K).
With a 6 feet cable, you won't be inconvenienced during transfer of data from the webcam to your system.
With a price of $75 and above, it is among the cheapest ones around.
MEVO start live-streaming camera
This one is not in the market yet. However it promises to be an upgrade on the current products available to us. With a height of 3 inches, it is a powerful but compact streaming device.
Therefore, you can stream and record events without using your computer. You can control the device with your smartphone.
Features
This webcam comes with one of the highest resolutions around. The resolution is 1080p30
The field of view is also one of the highest at 83.7°.
The light correction material in this device has exceptional low – light performance. However we have to wait for the official release to ensure the claims are true.
Comes with three mics as well as external mics to make the audio quality better than ever before.
Comes with standard tripod mount to make it easier for you.
Advantages of using this webcam
It is new so expect to experience advantages that were not obtainable in the previous devices.
Comes with wireless connection which includes controls for camera and streaming. The 4.1 Bluetooth connectivity is one of the latest around.
There is no need to search for a Wi – Fi network. The webcam is capable of generating its own network through LTE connection.
The device has the capability to record videos in 1080p resolution and record at the microSD at the same time alongside stream.
The price for this webcam has not been announced yet. Therefore, we can't talk about the price.
Logitech stream cam plus
This is another unreleased webcam on our list. At a glance, the features look impressive. Especially the full HD vertical video and integration with the highly impressive Logitech capture software.
READ ALSO: Text mail subscriber
Features
Amazing high resolution with 1080p at 60fps.
Wide angle field of view, 78°.
Lacks privacy shutter therefore what you need to do is to unplug the USB cable and terminate the transmission process.
Comes with automatic light settings to improve image quality in the most lightening of situations.
There are dual microphones found at the front of the webcam.
Furthermore, it has tripod threaded mount. This will ensure it is easier to mount the device on your machine.
Advantage of Longitech Stream Cam Plus
For those who want a modern webcam with low budget, this is what you need. Here are the advantages of buying this one.
Offers full HD vertical video view. This is integrated with Logitech capture software. This feature is great for streaming Facebook and Instagram. To use this app, rotate the camera and start recording.
Has the capability to frame and stabilize videos as well as automatic exposure. The stabilization feature is vital to prevent images from shaking when you bump the camera.
LongitechHD Pro C920
Those who are on a budget and want need a quality product, this one is meant for you. It is one of the best webcam for YouTube. It is true that Longitech has vast models of web cams, however none offers quality and affordability more than this webcam.
Features
Presence of light correction capability
Has wide field of view of 78°
High quality resolution of 1080p
Comes with plastic lens.
Advantage of using this webcam
With great light correction ability, it makes possible for you to shoot videos any where you are even in a desert.
Simple and easy to set up and can also be connected to a USB.
Offers and smooth video recording.
Greatly affordable and won't put a dent in your pocket.
Spedal full HD
This is a perfect webcam for YouTube when you are on low budget. The affordability makes it an obvious choice. However, it is much more than that.
This webcam is perfect for shooting gaming videos for YouTube.
Features
Comes with beauty effect which makes the video appear brighter than ever.
It comes with a high number of layer glass of lens.
This come with 100° field of few which makes it one of the best webcam for shooting group videos.
Advantages of Spedal Full HD
Purchasing this camera will offer you wide angle field of view.
The presence of the beauty effect makes your camera radiant and beautiful.
Cost – effective which means that you won't spend over the top to get this webcam.
High versatility is another reason to have this webcam.
Common features you should look for in a YouTube webcam
We know you are reading this because you want to purchase a webcam for shooting YouTube video. These features are necessary for your webcam to work effectively for your YouTube needs.
This feature is very important for you because it help your camera shoot videos that involve more than one person. Currently, the largest field of view angle is 150°. A webcam with this number will capture 90% of everything placed in front of it.
Almost all these webcams mentioned here have duel multi- directional mics. Therefore they have external mic built in, the quality of audio will affect your recording. Hence, you need to ensure that the mics function properly.
Video resolution is probably the most important thing to consider when buying a YouTube webcam. Most of the cameras here all have between 720p and 4K. Higher resolution means higher flexibility when it comes to editing. Hence, the reason it is very important.
READ ALSO: Best webcams 2020: top picks for working from home
Conclusion
YouTube is a very popular video blog. It is highly popular. Hence the reason many people are taking advantage and posting tons of videos on the website daily.
These webcams will assist to post high quality videos on the site.