Video editing is not an easy task. Hence, there are some laptops for editing videos. It is power consuming and demands a lot of memory space. That is why you need a powerful machine to perform the task. Thus, the reason we decided to bring to you a list of the best laptops for video editing.
These laptops will solve hanging issues and will bring fast rendering time to your work. And they have an effective processor and loads of RAM and large screens. All these features make these laptops above average.
The first you should look out for in a laptop as a vlogger should be screen size. The reason is that most photo editing is done with software like Adobe Premiere Pro. This sort of software usually divides your laptop screen into four. Namely, preview window, timeline, effect tab, and bin for all your videos.
This is the reason you need a bigger screen. For optimal performance, you should go for a screen size of at least 15 inches or more. For those who don't want a bulky machine, 15 inches a good balance of portability and comfortable screen. However, the larger the screen the more comfortable the editing experience.
The next thing to look into is screen resolution and quality. For those who want a more color accurate display, or those who shoot video in 4k format, you need more than a Full HD screen to work with. The same thing applies to those who shoot 8k contents.
You need to consider the processor as well. Laptops for video editing need loads of RAM. The reason is that you need it to store your videos temporarily. Connection should be ignored as well.
For example, a thunderbolt 3 port mean a laptop can be kitted with an external graphics card.The advantage of this is that it gives your laptop an upgrade and makes it function like a desktop. This means more power and extra space for the hardware.
READ ALSO: 10 Perfect laptops for professionals
You should also get a laptop with microSD slot. It will save you from needing adapters to import footage. Having looked at all these factors we have come up with a list of best laptops for video editing. These laptops tick almost all the boxes we have spoken about here.
Apple MacBook Pro
Here you have the best trackpad for editing on this list. With a RAM of 64GB and a screen size of 16 inches, it offers a storage space of 8TB. The benefits of having this laptop include
Very sensitive touch bar
Best trackpad for editing
Apple has become the standard used to measure the industry's growth. It is a measure of how far designers and editors have come. Most of this respect comes from the incredible trackpad that the Mac Os has been known for.
The newest 16 inches MacBook Pro is everything you need in a laptop. With its octa-core Intel i9 processor you can't fault the speed.
Then you have the 64GB RAM which means you have enough memory to run your application without them hanging. With Radeaon Pro 5500M graphics embedded in the laptop, you have vivid and sharp screen.
The icing on the cake is the context sensitivity found in the laptop. For example, the Touch Bar which is touch sensitive horizontal key found above the keyboard. This key changes with each app you use. The benefit of this is that it makes for quick option to scrub through videos.
The laptop trackpad when communicating with different apps vibrates. This gives the user a haptic feedback.For instance, when a clip you are dragging snaps into another clip as you use am editing apps, the trackpad vibrates.
In addition, this laptop comes with 8TB Solid-State drives. Hence the reason many want this laptop. Although this laptop can be seen as the best laptop for video editing, you need to spend big to purchase this system. It can go as high as $6,000 to purchase this. Hence, there is nothing cheap about this system.
Microsoft Surface Book 2
For those who want a 2-in-1 laptop. This is the best you can find right now. This is a laptop and a tablet in one. It is one of the good laptops for editing videos. The benefits of this laptop are
Amazing design.
Combines the qualities of both tablet and a laptop.
Microsoft Surface Book 2 is a great engineering achievement. It comes with electromagnetic latch that connects the tablet part to the keyboard with no wobble seen. For your video editing needs, this laptop will meet them all.
With Intel Core i7 graphics and a storage space of over 1TB Solid-State drive. Alongside an SD card reader in the keyboard partition. You have all the modern features you will want to see in a laptop.
In addition, it permits the use of a support pen input. This pen works when you are making use of the machine in a laptop or tablet form. For gamers, this laptop has an optional Nvidia GTX 1060 graphics. This particular feature is good for advanced 3D games.
The picture quality is another thing to marvel at, with a sharp, vibrant 15 inches display that comes with Pixel sense and great contrast ratio. All you see is stellar pictures on your screen.
Talking about this laptop without saying something about the great battery life will make this article inadequate. The battery life is nothing short of impressive. Overall, this laptop is incredibly versatile and buying it will give one of the best laptop for video editing ever made.
RazerBlade 15
Anyone in need of a laptop for the sake of 4k content, this one is for you. The advantages of this laptop include
Sleek metal design
4K OLED display which is amazing.
Loads of ports.
Lightweight
In this list, this laptop is the first of two laptops on this list that comes with OLED display with a 4k resolution. In addition, it comes with deep, black and punchy as well as vibrant colors. The appearance is breathtaking.
It is perfect for your video editing needs thanks to its pixel density of 282 which is among the highest in the market currently. In addition, the newly released Nvidia GeForce RTX 2080 graphics gives this laptop the capability to handle even the most difficult take.
It is one of the solid laptops for editing videos.
The availability of loads of ports makes for faster connection and transfer of files. This system is versatile as well. For those who go for the base option, you get an Ethernet port. The benefit of this port is to give you a fast internet although weird.
One thing that is worthy of note is that the storage space in this laptop doesn't compare with the competition. It is far less than most on this list.
However, when it comes to look, its black or white metal body looks stunning. One thing you may not like about this laptop is the price. It is a bit over the top.
Acer Concept D7
This is the best laptop for color grading. The benefits of purchasing this laptop are
Large storage space
Amazingly calibrated screen
For those who have a lot to spend, this Acer Concept D7 is a series of laptops as well as desktops made for editors as well as designers. This laptop also comes with gaming power, and no RGB lighting. It is perfect for grading colors.
In addition to that, it gives you a 4k UHD display which covers Adobe RGB gamut completely. All these come with a 32GB RAM which give you enough memory to process Full High definition videos.
The only downside to this laptop besides the price is there are no SD card slots. However it comes with Thunderbolt 3 cables for fast transfer, alongside a 1TB storage space. Mind you, it is one of the excellent laptops for editing videos.
READ ALSO: Things to look out for in a laptop
A space unit like this should be enough to store most of your 4k footage. All these qualities make this laptop one of the best laptops for video editing currently.
HP ZBook Studio X360
This laptop is known for providing portability with maximum space. Thus, for those who want portability and versatility as well as complete specs, this is for you. With the impressive NVIDIA Quadro P2000, you will have a vivid screen to work with.
The benefits of this laptop include
The color display is stunning
Comes with a Wacon pen input
This laptop is one of the few laptops around with a 64GB RAM. This means enough memory to run the most complex and demanding applications. The large RAM is complimented by a larger storage of 2TB as well as Intel Core i9 processor.
The laptop screen is foldable which gives you a tablet form when applied. Therefore, it is perfect for anyone who wants to illustrate parts of their video animation.This laptop is also available in different display options.
The peak however is the 4k dream color panel. This covers the Adobe RGB gamut completely. It delivers over a billion colors alongside maximum brightness of 600 nits.
In addition to all these, there is an SD card slot and several ports for connecting your devices. This machine completely justifies its price because it is an amazingly powerful and versatile.
The only downside to this laptop is the low grade of its GPU. Especially when compared with other products in the same price range. Guess what? It is one of the laptops for editing videos.
Huawei Matebook X Pro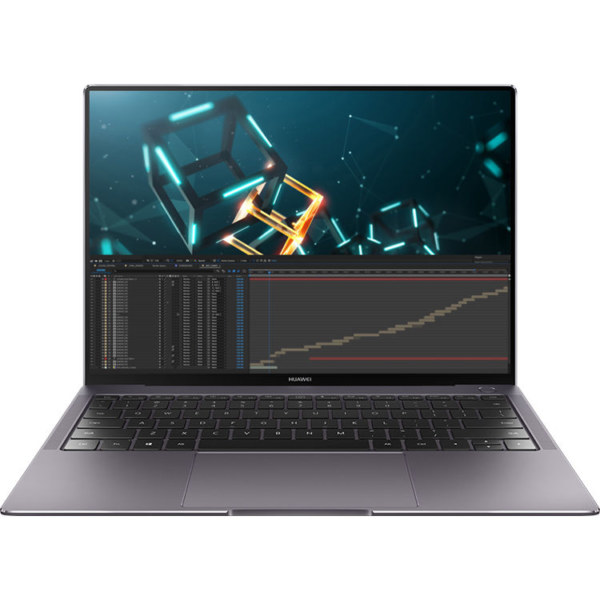 Looking for laptops for editing videos, if only portability is your only concern, this is the laptop for you. With its Quad – core intel i5-i7 processor, you are in for a fun ride. The benefits of this laptop include
Bright touchscreen
Sharp screen
The qualities of this laptop make it a perfect alternative to MacBook. However there is a difference. These differences make this laptop better than the MacBook in some ways.
It has a stunning metal build, biometric security and amazing speakers. With the thin nature of the speakers, it looks like Apple's Air. It also has 8th generation i7 processor loaded with complete USB port.
Therefore, it eliminates the need to carry a dongle with you. However, this laptop can't be used for heavy editing work, you only need it for light, and moderate editing works. To boost the performance of the laptop, you can make use of the thunderbolt cable to connect to an external GPU.
Alongside the 1TB Solid-State drive storage, and 16GB RAM you have all you need for your editing needs.Hence if you need a light and thin machine, this one is for you. It is also one of the laptops for editing videos.
There are few things that let this laptop down though. The first one is the pop – up webcam. It is very poor when you make use of it for video calls.
Dell XPS 15
When you shoot only 4k videos, this is perfect for editing them. It also comes with SD card slot which enables more storage nad one of the laptops for editing videos. The benefits of this laptop include
Stunning OLED screen
Card reader
Great battery life
This laptop is great for 4k video vendors but not good for gaming. So for gamers avoid this laptop because the feature of this laptop make it a better choice for video editing than the Razer blade 15 takes about earlier. Although they are similar in spec display.
The presence of a card slot, intel Core i9, and 32GB RAM alongside a 2TB SSD makes it the ideal laptop for to work with if you are ingesting gigabytes of 4K footage.
Although the Nvidia GeForce GTX 1650 graphics is not among the best right now, the use of the thunderbolt 3 ports can boost graphics by connecting to an external GPU most especially when you want to undertake a more demanding job. Hence, for fast edits on the go, it is very capable.
The downside to having this laptop include
Poor GPU especially when you look at the price
The battery is good, but not among the best around
Even with all these imperfections, this machine is still among the best laptops for editing videos.
Lenovo ThinkPad P53
Mostly known as one of the best laptops for editing videos and for business even with the absence of a card slot, this laptop is still a great choice for video editors. Buying this laptop will give you the following advantages
Dolby Vision High definition screen
Impressive storage space
For those who their video editing projects don't need a MacBook. This laptop has the conventional laptop look, but comes with amazing capable features. It comes in a wide range of options such as entry-level configuration that makes possible for the laptop to carry out basic editing.
Hence it is as versatile as it can be. This machine is among the exclusive class of laptops who comes with Ethernet port. The newest version of this laptop comes with thunderbolt 3 ports and a Sim tray which powers a 4G network.
READ ALSO: Gear Roundup: The Best Laptops for Video Editing
Conclusion
Video editing needs lots of power and demands high specs to pull it off. There are so many laptops for editing videos. However, if you take a good look at the list we have, you will get to see one of the best laptops for editing videos.
Laptops for editing videos come with a lot of power in them. If you don't have the right number of knowledge for laptops for editing videos, you may get to buy the wrong one.
Hence, laptops for editing videos need to be powerful with great battery life. Another point to note about laptops for editing videos is for you to be mindful of what you do with them.
Ensure that the laptops for editing videos are kept in a cool place not where the temperature is high.
Therefore, we have provided a list of quality laptops for editing videos that can be used to carry out editing projects easily.