There are so many laptops available in the market right now. Securing perfect laptops for professionals who need to make use of his laptop for business only. You will want something that is durable, comes with a long-lasting battery, and comes with enough RAM to run lots of applications smoothly.
We have a list of the perfect laptops for professionals.
The fact is that no matter what your needs, budget, or choice may be there is a laptop for you. For example, there are light but classy laptops for those who are always on the road. You can also find excellent gaming laptops for those who play lots of games on their PC.
Furthermore, you can find laptops for high productivity. These types of laptops are made for those who work from home. The last category is the budget laptops for those on a low budget. These ones will offer great performance at an impressively low price.
One thing you can be sure is that every laptop reviewed here has been tested thoroughly to ensure they pass the performance test. In this list, we take a critical look at prices, and performance as well as battery and design. Hence, only laptops that pass all these criteria are on this list.
READ ALSO: Top smartphone accessories you may not know
Therefore, you can be rest assured that any laptop you buy from this list is safe. They are Capable of meeting your demands for quality performance, durability and thereby providing you excellent service. It is important to note that our list is not focused on price, or power. It is a combination of both and more and they are perfect laptops for professionals.
HP Spectra x360
The best words to describe this laptop are stylish and elegant. It comes with a 10th generation Intel Core i5. The RAM here ranges between 8GB to 16GB. Storage space is massive, ranges between 256GB to 2TB (terabyte).
You have 13.3 inches with a resolution of 1920 x 1080. The benefits of this laptop include:
High-quality finish
Great performance all round.
However, this laptop has its bad side. These include poor battery when compared to other laptops released this year. It gets hot sometimes.
Meanwhile, the HP spectra x360 is a 2 -in-1 laptop. It comes with a big refresh. With a major boost in specs, the 10th generation Intel processors and Iris plus graphicsmake this new version a popular choice and worthy to be on our list.
HP is a household name when it comes to laptops. They are known for providing quality machines at affordable prices. This particular machine is not different from others before it in terms of quality and performance at an affordable price. It comes with formidable security features and for those who love aesthetics alongside performance, this laptop is perfect.
Dell XPS 15
This laptop is regarded as the best in 2020. This laptop ticks almost all the boxes when it comes to demands on laptops. It is an upgrade to its previous 15-inch flagship.
This laptop is as close to perfection as a laptop can get. The benefits of this laptop include
Fast performance
Eye-catching design
However, the 15 – inch to some people is too large. Some of the features of this laptop include
Intel iris plus graphics
Large RAM ranging between 8 to 64GB
Storage space range between 256GB to 1TB
The relatively large screen size of 15.6 inches.
All these features listed above come together to give you a laptop that has the latest and best tech from Intel. It allows configuration with a discreet GPU. This makes it possible for you to make use of it for image and video editing.
In addition, it comes with one of the best designs ever seen in a Windows 10 laptop, alongside incredible battery life. Although a bit pricey, it is alright when compared to the performance.
Dell XPS 13
Here is another product from Dell on our list. It is a brilliant laptop as well. This laptop is not new though considering the fact that it has been regarded as the best laptop for the past two years.
It gives us everything we have come to appreciate about Dell laptops. From impressive design to components that power the machine.Although it is a bit expensive, the price is totally worth it
Lenovo ThinkPad X1 carbon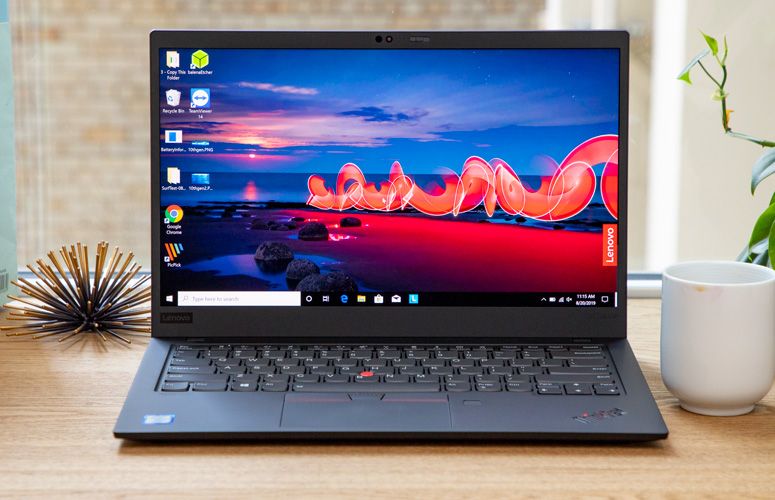 Although Lenovo as a company has not made any changes by their favorite business machine, the new ThinkPad comes with Intel 10th generation CPU.
In addition to fast performance, you will get extended battery life with 4k display options. The best part is that this machine is lightweight, approximately 2 pounds in weight.
The benefits of using this machine include
Lightweight design
Fast performance
Bright and vibrant display options.
Best -in – class keyboard
Steadily black aesthetics.
Although it has its bad sides, such as weak graphics, this machine is perfect for professionals.
Apple MacBook Pro
For lovers of Apple products, this is the perfect laptop for professionals. With a classic keyboard, this keyboard is regarded as magic and a step above the butterfly mechanism. This keyboard supports the scissors switch and offers a better typing experience.
In addition to this is a bright and sharp display alongside a powerful performance. It is a performance coming from Core i9 CPU, and robust AMD Radeon 5300 or 5500 graphics. Additionally, there are 11 hours of battery life available to the user.
For those who want to splurge, you have a 64GB RAM available with 8TB storage space. This will take care of all your needs.
The benefits of this laptop are:
Immersive 16-inch display
Amazing performance
Excellent 6 speakers for impressive audio quality.
However, you may be disappointed with no SD card slot. However, the large internal memory space is more than sufficient for you to store your files.
Lenovo ThinkPad X1 Yoga
This is the first mental ThinkPad. It was a major gamble by the company. However, it was a success. It remains one of the best laptops available. It is perfect for professionals.
Although we love the matte-black carbon-fiber we see in most ThinkPads, the aluminum ThinkPad X1 Yoga offer an amazing variety.
Some of the benefits of using this laptop include:
Long battery life
Class keyboard
Slim, durable
Bright and clear display.
Large storage of 1TB with a wonderful 64GB RAM
The impressive Intel i7 CPU powers this machine.
Lightweight.
In addition to all these benefits, it comes with a webcam cover and is tested for durability. A test it passed excellently. Hence, you don't have to pamper the machine. For those who are used to the carbon-fiber, you will be disappointed because it is absent in this ThinkPad.
Microsoft Surface Pro 7
Microsoft is a household name when it comes to laptops. They have maintained a high standard for such a long time that we are not surprised when they give us amazing products. This laptop is not different from what we have come to expect from the company.
Here you have the best 2-1 laptop. The qualities of this laptop make it the perfect for professionals. The major difference between the Surface Pro 7 and the Surface Pro 6 is the power boost the later has over its predecessor.
READ ALSO: Best 5G Powered Smartphones in 2020
Besides the battery life, the Surface Pro 7 has a USB -C- port for things like charging and connection of devices. The benefits of this laptop include
Speed
Comfortable keyboard which are optional.
USB -C port
Bright and colorful display
In addition to all these benefits the super responsive surface pen. The benefit of this tool is it makes it easier for you to take notes as well as draw on this machine clear and bright display. With a 12.3 display, the screen is large enough and at the same not bulky which makes it perfect.
Aside from using this laptop in the office and at home, it is perfect for travelling too.
HP ZBook Studio x360 G5
HP like Microsoft and Apple are popular names when it comes to manufacturing of laptops. The HP ZBook Studio x360 G5 is the best workstation laptop. It is arguably the most perfect laptop for professionals. Most especially for those who consider power as the most important thing in laptops.
As long as you are not on a budget, this laptop will give you no problems. It has everything you will need from a laptop. These include clear bright display and impressive performance.
READ ALSO: Why your phone screen size is important
The most impressive part of this laptop is the long battery life and surprising workstation sleek profile. On the other hand, the less impressive aspect of this laptop includes dreadful webcam. Hence, you need to get a good external webcam if you want to engage in conference calls using the laptop.
Asus ExpertBook B9450
When you want a perfect laptop for professionals, but portable at the same time, this is the laptop for you. Although Asus are not a well known company like a HP, Microsoft, and Apple, they have impressed with this laptop.
Amazing 16 hours and 42 minutes is the length of the battery life found in this laptop. This allows for continuous web activity over Wi-Fi. There is no laptop with such battery life anywhere. Aside battery, there are other benefits you will get from this laptop. These benefits are:
Extended battery life,which is record- breaking
Amazingly lightweight which is the high point of the laptop
Beautiful design which is called midnight-blue.
There are other things to love about this laptop. However, certain things like the keyboard which can be frustrating at times need to be fixed.
Although, the overall performance is great; and you may consider it above some of the other great laptops here.
Dell Precision 7730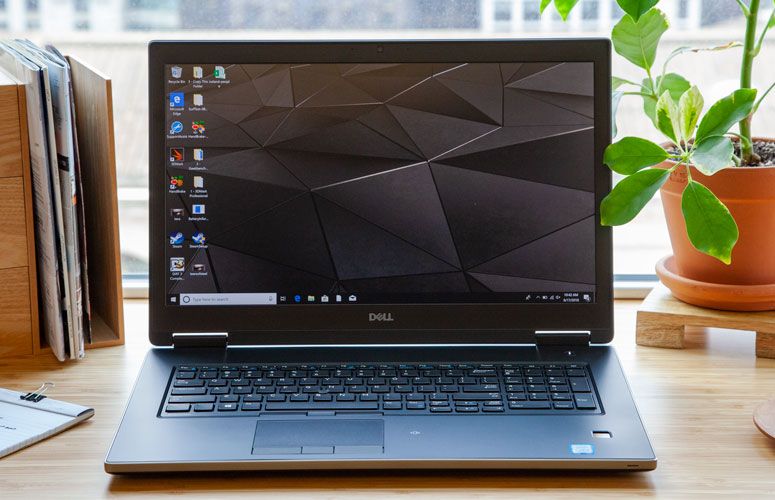 Among all the 17 inch laptop display you can find, this is the best of them all. It is often called a workstation beast. Among all the laptops put there, this laptop is among the best laptop for professionals.
However, we must point out that if you are on a low budget, don't go for this because it is pricey. For those who don't have a problem with spending, this laptop is perfect. It is also great for travelers.
With a Core i9 CPU and Nvidia Quadro P5200 GPU, even the most demanding application will run smoothly on this laptop. Hence, you can't complain about performance. However, it is not all about performance for this laptop.
The benefits of this laptop include,
Comfortable keyboard
Amazing performance
Durable design
A vivid display
It also comes with a beautiful 4k display, a keyboard that is comfortable and a good design that makes it an all round laptop. The only downside to this machine is the battery life, which is not so great. It sometimes runs warm which some may consider a disadvantage.
How to choose professional laptop
Before you decide to purchase a laptop as a professional, there are somethings you should consider. In this article, we have given you a list of laptops perfect for professionals, we now want to let you know the things you should think about before you purchase a laptop.
Most professionals want a laptop that comes with a dual-core. That means a Core i5 CPU. However, if you want greater performance for demanding applications like 3D Modeling, professional video editing.
Then you need a machine with a quad-core processor like the Core i7 CPU with model numbers in HQ and NividiaQuadro graphics.
There is no one out there who wants to run out of battery in the midst of working or in a cross-country flight. Hence, you should get a machine that has at least 9 hours battery life in it. Don't settle for less even if the laptop has other benefits besides battery life.
It is difficult to use a laptop with difficult keyboard. A good typing experience is vital for a professional machine. Look out for quick feedback, deep travel and no flex.
Get a screen with at least 1080 resolution
It will be difficult to work effectively if you can't see most of what is on the screen. Don't purchase laptops with resolution lower than 1920×1080. Resolutions like 1366 x 768 are like plague. They are extremely difficult to work with.
Most people don't want to move about with a bag full of dongles. Think about all the kind of connections you or your workers need the most. For those who connect to wireless network often ensure that your laptop has Ethernet port.
For those who use their laptop for photographic jobs, you need a laptop with a memory card reader.
READ ALSO: 8 Best Laptops for IT Professionals & Students in 2020
Conclusion
Laptops are vital to professionals. It is difficult to work with desktops these days because you can't move them comfortably. In this article, we have come up with a list of laptops that are perfect for professionals.
These laptops are great help to all professionals out there. No matter the work you do, these laptops will play a vital role in helping you succeed.